KNOW A SENIOR IN NEED OF A FAN?
Seniors can apply for a fan by calling 395-9787 on
WEDNESDAY - JUNE 15TH
Fans available for distribution depend solely on the number of fans collected. Completion of an application does NOT guarantee a fan.
Fan distribution day will be Friday, June 17th from 8:30 am - 2:00 pm
PRIORITY WILL BE GIVEN TO SENIORS 60 AND ABOVE!!!!
CALL 395-9787
TO DONATE!
Cash or Debit/Credit Accepted
The Volunteer Center of Kern County and KGET TV17 are hosting our 21st annual Keep Kern County Cool Fan drive benefiting Kern County seniors! We have distributed more than 15,550 fans to local seniors in the last 20 years. This year, we will be taking donations at Compassion Corner at the KGET TV17 (2120 L Street) on June 15th once again. Sponsorships can be monetary or a new fan(s). We will be there 5:00 a.m. - 7:00 p.m. You can drop off a new fan(s), cash or even make a donation via debit/credit.
We have the ability to buy fans at a dramatic discount by ordering in bulk so we are asking you to consider "partnering" with us this year. We rely on generous donations to make this event successful. Please consider helping today! Our seniors need these fans more than ever this year, but we can't do this without YOU!!!!!
CLOSURES AFFECT SENIORS' ABILITY TO STAY COOL!
Cooling Centers will open when the temps are forecasted to be 105 or above! Many seniors over the age of 60 rely on these centers as a way to escape the severe summer temperatures and the potential health complications brought on by the heat! Respiratory issues and heart problems can become life threatening when the seniors are exposed to high temperatures and no way to cool off! Other local facilities that have been utilized in the past are still closed due to COVID-19 or are slowly opening........but still discourage large prolonged gatherings. Like so many others, alot of our vulnerable seniors are apprehensive about leaving their homes and many living on restricted incomes are unable to afford to operate their air conditioners or swamp coolers.
21st Annual
Keep Kern County Cool Fan Drive
June 15th, 2022
5:00 a.m. - 7:00 p.m.
IMAGE FROM PREVIOUS FAN DRIVE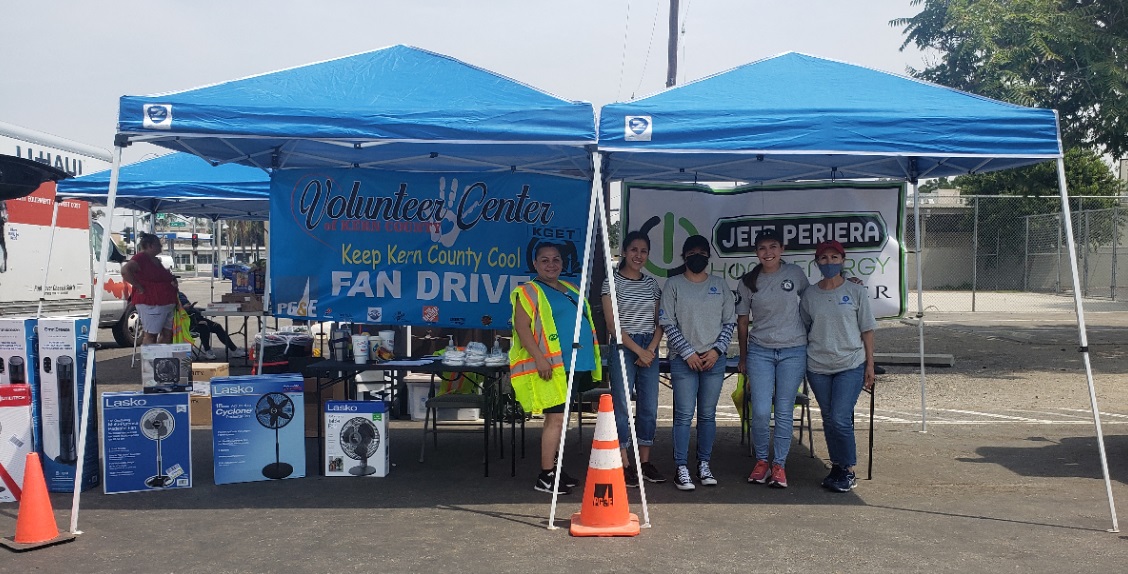 Are you or someone you know interested in donating a NEW fan or a monetary donation to the drive? It is simple. YOU are the success of this program! Encourage your family, friends, or co-workers to get involved!!! Business owners can challenge other businesses or employees to step up on behalf of our seniors. New fans can be dropped off at the Volunteer Center, 1311 Eye Street, from Wednesday, June 1st through Tuesday, June 14th, 8 a.m. - 2 p.m. Or you can donate NOW!!